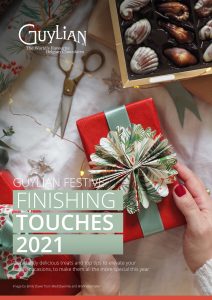 One of our great successes over recent years has been producing a series of Finishing Touches e-books for our client Guylian Belgian Chocolates, and for 2022 we took this one stage further creating three collections: Spring, Autumn and Festive Finishing Touches.
All of the guides showcased delicious recipes, which featured Guylian Sea Shells as the perfect way to add a finishing flourish to a recipe. This year's Festive Finishing Touches included top tips from a selection of UK lifestyle influencers who shared how they elevate their special occasions and everyday moments with Guylian.
If you are looking for some show-stopping recipes featured within the guide, then these may inspire you:
Salted Caramel and Hazelnut Pavlova by @patisseriemakesperfect
Chestnut Cream Chocolate Roulade by Dominic Louis Franks @dominthekitchen
Mississippi Mud Pie by Catrin Komor @fwdge
Hazelnut Trifles by Rachel Scott @FoodNerd4Life
Stem Ginger Brownies by Jane Saunders @jane_littlesugarsnaps
Toasted Hazelnut and Caramel Choux Wreath    by Rachel Phipps @missrachelphipps
And you'll also find content from lifestyle influencers we partnered with including:
Becca from @malmoandmoss shared how to make a gorgeous and reusable DIY advent calendar 'housing' our Guylian Temptations chocolates
Emily Dawe from @editbyemily demonstrated how to create paper fans using off cuts of wrapping paper
Katie Smith from @thehumblepescatarian shared how she winds down during the festive season
Anne Tiainen-Harris from @nordiclivingincolour shared how she marks the start of the festive period at her household
A huge thanks to all our talented creators.  To view or download all of these festive recipes and tips to make your celebrations all the more special, visit: https://www.guylian.com/guylian-festive-finishing-touches-2021/
We hope everyone has a fabulous holiday season, and we can't wait for 2022, which will see lots of exciting announcements in store for Guylian as well as the opportunity to create new Finishing Touches collections. If you would like to keep up to date with Guylian's news (including the launches of the next editions of Finishing Touches), follow them on social media:
Facebook: @Guylian_UK
Instagram: @guylian_uk
Here's to a festive holiday season and a tasty year ahead!